The day I've been working for has arrived. Jewel of The Stars book 1 is released to the world. I'm especially excited about this book because it is my first published work that is solely my own creation. You can find it now on Amazon and GoodReads.
A luxury cruise ship on the run from aliens. #JewelOfTheStars by @adamcollings #amreading – Click to Tweet This
It's currently available at a launch price of just 99 cents. It will go up to a regular price of $2.99 in a week or so.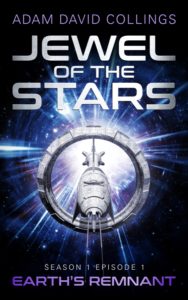 The Cruise is Over
Haylee was more confident designing starships than raising an autistic child. She just wants a relaxing holiday with her family. But when Earth falls to an alien armada, she knows life will never be the same again.
Les was just a cruise ship captain. Now, he must rise up and become something greater, if he is to keep his crew and passengers alive.
Braxton never wanted to leave the space navy, but now, taking a cruise is the only way to feel the stars around him. This crisis may be his ticket to regaining the life he thought was gone forever.
Can they overcome their differences and save everyone on the ship?
If they reach unexplored space, they might yet survive, but an unstoppable enemy stands in their way…
Earth's Remnant is the thrilling pilot to an episodic space opera – Jewel of The Stars by Adam David Collings. Join the crew as they fight for survival against the wondrous backdrop of the unknown. What else will they find hiding among the stars?







by