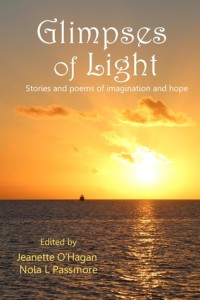 Today I'm taking part in the Glimpses of Light Blog Tour to celebrate the release of this anthology. In the previous installment, Jeanette O'Hagan shared about the inspiration that led her to create the anthology and shared an excerpt from her fantasy story Ruhanna's Flight.
As part of this post I'll be giving away a book. See more about this at the end.
I first heard of this anthology through Christian Writers Downunder. I was interested to learn that 2015 was the International Year of Light, and that all proceeds from the sale of this book would be going to support CBM Australia (Christian Blind Mission). I began to think about what sort of contribution I could make.
When considering the theme of light, the first thing that sprung to my mind was Psalm 119:105. "Your word is a lamp for my feet, a light on my path." This verse is a nice picture of how God's word guides our steps. I began to wonder, wouldn't it be cool to interpret this literally. What would it mean if scripture could literally create light for somebody to see their way through the darkness. Being a science fiction writer, the answer to this was obvious – bio-luminescent plants! A story began to form in my mind about a man trapped underground on an alien world, and some very cool local flora that he would discover down there.
I just needed a protagonist now. I thought it would be a lot of fun to set this story in the same universe as my up-coming Space Opera series: Earth's Remnant. Archer White became the brother of my existing character Braxton White. (Who knows, Archer might even show up again one day).
I have to give a lot of credit to God for this one. I believe his hand was very active in the inspiration and creation of this story. It all just came together.
It is a huge privilege for me to be a part of this anthology. I am surrounded by extremely talented writers. There's a little something for everyone.
You can get a copy of Glimpses of Light from Amazon:
Giveaway
In celebration, I am going to give away one paperback book to a commenter below. The winner will be chosen at random and will receive their choice of either Glimpses of Light or Medieval Mars: The Anthology. The giveaway is open internationally. Everyone is eligible except contributing authors to Glimpses of Light.
To enter: comment below and tell me what you most appreciate about light. A second bonus entry will be awarded to you if you are a member of my email list, so sign up if you haven't already. The give-away will close at 8:00 PM AEST on 19th January 2016.
Coming up Next
This Friday, Charis Joy Jackson takes the baton. Charis is an exciting up-and-coming fantasy author, and is already an award-winning writer for her contributions to Christianity Today magazine. Be sure to check her out at randomthoughtsanddreams.blogspot.com.
If you like this, share the love







by