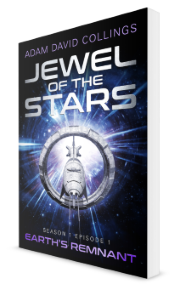 The Cruise is Over
Haylee was more confident designing starships than raising an autistic child. She just wants a relaxing holiday with her family. But when Earth falls to an alien armada, she knows life will never be the same again.
Les was just a cruise ship captain. Now, he must rise up and become something greater, if he is to keep his crew and passengers alive.
Braxton never wanted to leave the space navy, but now, taking a cruise is the only way to feel the stars around him. This crisis may be his ticket to regaining the life he thought was gone forever.
Can they overcome their differences and save everyone on the ship?
If they reach unexplored space, they might yet survive, but an unstoppable enemy stands in their way…
Earth's Remnant is the thrilling pilot to an episodic space opera – Jewel of The Stars by Adam David Collings. Join the crew as they fight for survival against the wondrous backdrop of the unknown. What else will they find hiding among the stars?
Jewell Of The Stars is an episodic series. Each season will consist of six episode. Each episode will be a 30,000 word novella. the entire saga will be four seasons.
Check out the PInterest Board" for more about this series.
Here's a spotify playlist of music that fits the narrative arc of Jewel of the Stars episode 1. Think of it as an unofficial sountrack.
Episode 1: Earth's Remnant (Pilot)
Captain Les Miller gets more than he bargains for when a hostile alien invasion force sweeps through and occupies Earth in a matter of hours. Now he must become more than a cruise ship captain. Braxon White was forced to leave his post as first officer of the HMAS Hobart, but now he's gone from passenger to military advisor to a civilian captain. Haylee Scott just wants to keep her family safe, but that may mean risking her life on a dangerous mission to retrieve a cannon from a derelict warship.
Episode 2: Honeymoon's End
When looting begins on board Jewel of the Stars Captain Miller authorises a risky mission to find supplies on a former Earth colony, but security chief Jaylen Banks soon finds evidence of organised crime. Two young newlyweds struggle to hold on to what's left of their honeymoon, but it soon becomes evident that the cruise is over.
Jewel Of The Stars Episode 2